At Superior Materials, we're focused on developing and maintaining long-term, mutually-rewarding relationships with our customers and partners.
Please see current COVID-19 notice below (in Events and Notices).
---
We represent the following manufacturers:
(click on the individual logo for partner/product details)
COVID-19 status, effective June 28, 2022

Superior Materials continues to operate in all respects as an essential business.  Our staff is equipped to work remotely if/when necessary, and our office is staffed at an appropriate level.  We are applying Federal, State and local guidance to our activities as appropriate.   The current economic recovery scenario is significantly impacting aspects of our supply chain, including both domestic and imported products (raw material tightness, allocation, and lack of availability; extended lead times, transportation bottlenecks and frequent significant cost increases).  We are seeing some improvements in the supply chain, but lead times continue to be variable.  These issues are subject to change with short or no notice, and we continue to plan and work with our partners to mitigate the impact of these issues on our customers.  Please reach out to your account manager or our team  by phone or email with your particular questions, orders, and requirements; proactive communication is key in the current environment.  We wish the best of health and safety to our partners, and everyone's families, friends, neighbors and associates.  Please let us know how we can help.
---
Thank you to everyone who helped make the 2021 Eastern Coatings Show a success.  The Superior team and our Principal/Partners enjoyed speaking with you.
Click here for more information.

We look forward to the time when we can again schedule in-person events.  In the meantime, please reach out to your account manager to learn about available digital presentations.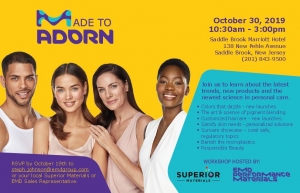 Want to stay up to date? Subscribe to our Newsletter!